Overview
Hallux valgus, often referred to as "a bunion," is a deformity of the big toe. The toe tilts over towards the smaller toes and a bony lump appears on the inside of the foot. (A bony lump on the top of the big toe joint is usually due to a different condition, called hallux rigidus.) Sometimes a soft fluid swelling develops over the bony lump. The bony lump is the end of the "knuckle-bone" of the big toe (the first metatarsal bone) which becomes exposed as the toe tilts out of place.
Causes
Causes of bunions are foot injuries, neuromuscular disorders, or congenital deformities. People who suffer from flat feet or low arches are also prone to developing these problems, as are arthritic patients and those with inflammatory joint disease. Occupations that place undue stress on the feet are also a factor; ballet dancers, for instance, often
develop
the condition. Wearing shoes that are too tight or cause the toes to be squeezed together is also a common factor, one that explains the high prevalence of the disorder among women.
Symptoms
In addition to the typical bump, signs of bunions can include red, calloused skin along the foot at the base of the big toe. With bunions, you may also develop calluses on the big toe, sores between the toes, ingrown toenail, and restricted motion of the toe. Some bunions are small and painless and some are large and extremely painful. Pressure from shoes worsens the problem.
Diagnosis
Although bunions are usually obvious from the pain and unusual shape of the toe, further investigation is often advisable. Your doctor will usually send you for X-rays to determine the extent of the deformity. Blood tests may be advised to see if some type of arthritis could be causing the pain. Based on this evaluation, your doctor can determine whether you need orthopaedic shoes, medication, surgery or other treatment.
Non Surgical Treatment
Bunions are progressive problems, meaning they tend to get worse over time. Sometimes severe-looking bunions don't hurt much, and sometimes relatively modest-looking bunions hurt a great deal. Thus, treatment varies depending upon a patient's symptoms. You can often improve the discomfort of bump pain by a change to more proper shoes. Alternatively, alterations to existing shoes may improve pain associated with bunions. Accommodative padding, shields and various over-the-counter and custom-made orthopaedic appliances can also alleviate bunion pain. Anti-inflammatory medications, steroid injections, physiotherapy, massage, stretching, acupuncture and other conservative treatment options may be recommended by your podiatric physician to calm down an acutely painful bunion. Long term, orthoses (orthotics) can address many of the mechanical causes of a bunion. Thus, while orthoses don't actually correct a bunion deformity, if properly designed and made, they can slow the progression of bunions. They can also be made to redistribute weight away from pain in the ball of the foot, which often accompanies bunion development. Padding, latex moulds and other accommodative devices may also be effective. While they don't correct the misalignment in the bones, they may alleviate pain. Often, though, when conservative measures fail to alleviate pain associated with the bunion, when you start to limit the types of activities you perform, when it's difficult to find comfortable shoes, and when arthritis changes
How can we increase our height?
you walk, surgery may be the best alternative.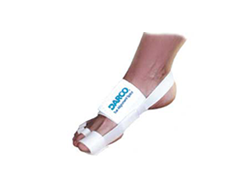 Surgical Treatment
Sometimes a screw is placed in the foot to hold a bone in a corrected position, other times a pin, wire or plate is chosen. There are even absorbable pins and screws, which are used for some patients. In British Columbia, pins seem to be used most frequently, as they're easier to insert and less expensive. They are typically--but not always--removed at some point in the healing process. But as a general rule, Dr. Schumacher prefers to use screws whenever possible, as they offer some
advantages
over pins. First, using screws allows you to close over the wound completely, without leaving a pin sticking out of the foot. That allows for a lower infection rate, it allows you to get your foot wet more quickly following the surgery, and it usually allows for a quicker return to normal shoes. Second, they're more stable than pins and wires. Stability allows for faster, more uneventful, bone healing. Third, they usually don't need to be removed down the road, so there's one less procedure involved.
Prevention
To minimize the chance of developing bunions, never force your feet into shoes that don?t fit. Choose a shoe that conforms to the shape of your foot. Opt for shoes with wider insteps, broad toes, and soft soles. Shoes that are short, tight, or sharply pointed should be avoided.
[ بازدید : 13 ]